NC 529 Gifting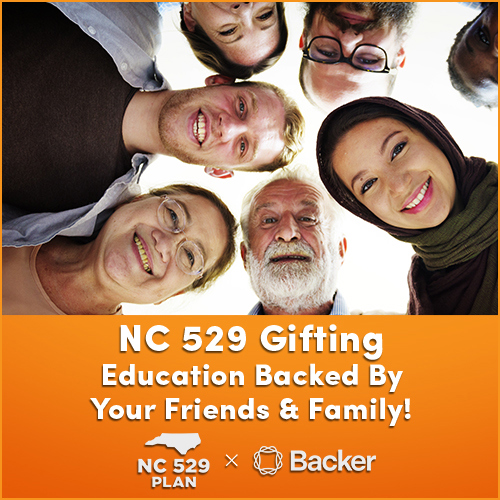 Education Backed by Your Friends & Family
Great news! Now, it's so much easier to give a gift to the 529 plan!
Just login to your account to activate a gifting link, just for YOU, to share with friends and family!
---
Let us walk you through how to set up your unique gifting link to share with family and friends!
Already have an Account in the NC 529 Plan or ready to open one?
Simply click "View Your Accounts" and login. 
Select a Beneficiary
Click Take Me to Gifting button. 
You will be provided with a unique gifting link for your account, supported by Backer.
Simply email or text your unique link to friends and family and invite them to contribute.
Friends and family can contribute, using the link provided, via:

Credit Card
Debit Card
Google Pay
Apple Pay
Bank or Credit Union Transfers
*Gifting contributions via links are processed by Backer. Please note that there is a small fee ($0.99) associated with contributions made using this method.
Are you a friend or family member who wants to Give a Gift?
Simply ask your loved one to log in to their NC 529 Account and follow the instructions above to share their unique gifting link with you!