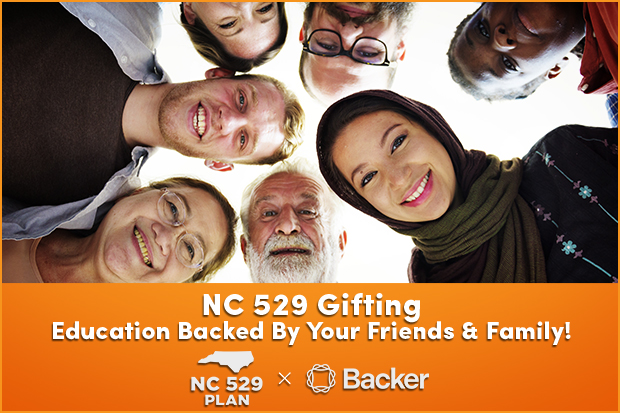 NC 529 Gifting Frequently Asked Questions
We hope you're as excited about our new gifting links as we are! If you have questions, we have answers.
The NC 529 Plan has collaborated with Backer.com to help NC 529 Plan participants easily receive gifts from family and friends online. With one click, you can create an easy-to-share gifting link that will let your loved ones contribute directly into your beneficiary's 529 plan. You can use it for holidays, birthdays, graduations, back-to-school season, and more – and these "backers" can give one-time or monthly gifts.
A customizable URL (backer.com/yourkidsname) for you to share with family and friends. To get set up, simply visit your NC 529 Account online and click on the orange "Take Me to Gifting" option. Once you reach your unique gifting link, you may customize the gifting page by visiting the Settings icon in the top right corner of the page.
Your backers can use a bank account, credit card, debit card, or digital wallet (Apple Pay or Google Pay) to give your 529 beneficiary a gift. When choosing to contribute using a bank account, they can securely connect their savings or checking account by logging into online banking – or they can manually type in their account number and routing number.
Backer charges $0.99 for gifts made via a bank account (ACH) and 3% + $0.99 when they're made via credit card, debit card, or digital wallet (Apple Pay and Google Pay).
As long as your friends and family use your unique gifting link, all gifts they make through Backer will be transferred directly into your NC 529 Account. You will see the gift in your transaction history and you will receive a receipt via email.
Your beneficiary's backers can log into backer.com to send new gifts or update an existing monthly gift by changing its amount, payment schedule, funding source, or canceling it.
No. You can easily activate and share your unique gifting link or URL online. Your friends and family can contribute through the gifting link online as well.  Neither the NC 529 Participant (account owner), nor the friend/family gifters, are required to download the Backer app.  Stay tuned for additional enhancements to our gifting services in 2023 that will incorporate app functionality.