CTE Programs: 6 Benefits of Considering Trade School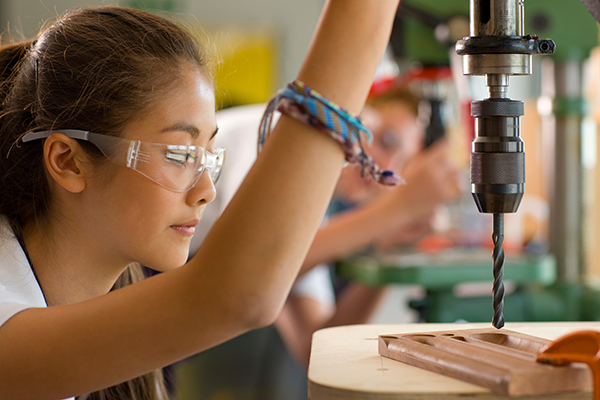 Have you ever sat in class and wondered, "When am I ever going to use this?" Now, imagine if every class on your college schedule teaches you skills that apply to your everyday life and future job.
If this sounds like a learning environment where you'll thrive, consider enrolling in a Career and Technical Education (CTE) program. Not sure what that is or if it's right for you? Then keep reading!
What is a CTE Program?
CTE programs are also called trade or vocational school programs. These types of programs include academic, technical, and real-world knowledge. CTE programs can place students on a direct path to high-demand careers that require specialized training.
If this sounds good to you, we have more good news — CTE programs are available at your local North Carolina community college! With 58 campuses across North Carolina, you're bound to find a program to jumpstart your dream career. Here are some of the benefits of a CTE education.
Hands-On Training Programs
Trade school programs offer hands-on learning opportunities in a wide range of industries, such as manufacturing, audiovisual technology, healthcare, cosmetology, and many more. For many students, the idea of learning by doing is a more effective educational tool, so what you learn in the classroom sticks with you — to apply successfully in your career.  
High-Demand Jobs
Many CTE programs will prepare you for jobs that are experiencing a lot of growth — meaning that the demand for people who can do these jobs is increasing. For example, the employment of solar energy system installers is predicted to grow by 52% by 2030. Respiratory therapist job openings are expected to grow by 23% through 2030, as are those for software developers at 22%.
Other high-demand careers include occupations such as electricians, plumbers, and pharmacy technicians. Better yet, many of these jobs often pay higher salaries than entry-level jobs in some non-trade occupations!
Pay Less for Your Education
Another great benefit of CTE programs is that they tend to be more affordable than earning a bachelor's degree from a four-year school. The average cost of tuition at North Carolina community colleges runs about $3,920 per year, and if you can live at home during your CTE program, you won't have to pay for housing.
The best way to get financial aid for a CTE program or any other higher education expense is to complete the FAFSA (Free Application for Federal Student Aid). This application opens for the following academic year on October 1, and it's best to submit it as early as possible to qualify for grants, scholarships, work-study programs, and loans.
Additional grants and scholarships are also available to pay for school, such as the Golden LEAF Scholarship and the NC Community College Grant. Check out CFNC's Scholarship Search Tool to find even more opportunities to get free money to help you cover the cost of a CTE program or other college classes.
Graduate Sooner
When you're on one of the many CTE pathways, you can graduate and start working much sooner. Depending on the program, you can earn an associate degree in two years or get a vocational certificate or license in less time.
Apprenticeships range in how long they last, but they are a great way to get your foot in the door of a job you love — and earn while you learn! That's right — these types of CTE programs will pay you to work under a professional in your field of study so that you can transition right into full-time work as a skilled expert after completing your apprenticeship.
Even before you graduate from high school, you can get started on a CTE career pathway. The NC College & Career Promise program provides tuition-free credits for high school students to use toward a certificate, diploma, or workforce credential. Get the details on these exciting CTE career pathways.
Capitalize on Your Natural Talents
Are you always asked to do your friends' hair and makeup for events? Maybe you're the go-to person when someone needs help building furniture. Trade schools and apprenticeships let you apply your personal skill sets to your everyday life and do what has always come naturally to you for a paycheck.
Not everyone finds a job right after college doing something they've always been good at — but once you get a certificate or degree in a field that you're passionate about, it's your time to shine!
Learn Professional 'Soft Skills'
Not only will you gain practical skills in your field of study, but you'll also develop professional "soft skills" that will serve you in any workplace. Since CTE programs are career-oriented, this educational setting gives you a head start on practicing responsible communication, time management, adaptability, and teamwork. There's no substitute for real work experience — and through these programs, you'll learn the valuable lesson of how to be a successful, long-term, and valued part of a company.
Join Us at CFNC's Virtual Career Fair
Want to get a closer look at CTE programs within the North Carolina Community College System? How about a chance to ask questions to professionals who work in various trades around the state? Register for the NC Countdown to College Virtual Career Fair: Trades & Apprenticeships, held Tuesday, October 4, 2022, at 3:30 p.m.
It's the perfect opportunity to learn more about trade programs at North Carolina's top-notch community colleges. We hope to see you there!
Go Back to News