How to Make a Child Savings Plan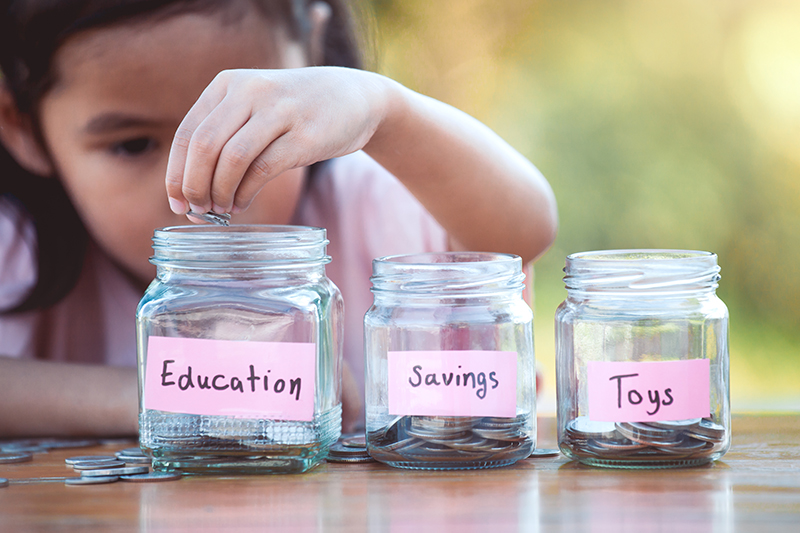 Making a child savings plan when your kid is young is the best way to prepare for the cost of education down the road. This can also teach your child good money habits and how to plan for the future. Choose a child savings plan that works for your family, and focus on sticking to it. Here's how to determine the best ways to save and how much to set aside annually.
Types of Child Savings Plans
Whether your goal is to save for education or simply to build a nest egg for your child when they reach adulthood, it is imperative to save early for your child's future. The end goal can help you determine what type of child savings plan to establish.
Children's Savings Account
Most banks and credit unions offer a children's savings account, which you can co-own as a parent. You can deposit a monthly allowance into the account, put a portion of monetary gifts in there, or use it to help your child save for the latest gadget or video game they really want. This can be a valuable tool if you want to teach your kids how to manage and save money. You can possibly turn this account into a teenage checking account as they age, which allows you to remain a co-owner and provides your growing child with a debit card.
529 Education Savings Plan
If your goal is to save for education, a 529 savings plan is a great choice. The money is earmarked for education, and it grows tax-free. Simply knowing there is a 529 college savings plan in their name often encourages children to expect to continue their education beyond high school.
The NC 529 Plan allows beneficiaries to use funds in their accounts for qualified education expenses that include college expenses, K–12 tuition, trade school and apprenticeship program expenses, and student loan payments.
Custodial Account
If you aren't sure whether you want to save for college, or you want your child to have more control of the money when they are older, you could open a custodial account. The money is held in your child's name, but you can put money in the account and manage it until your child reaches the age of majority. At that point, your child can use the money however they want, not just for education. Funds in a custodial account may have a bigger impact on financial aid eligibility than savings in a 529 account.
How Much Do You Need to Save?
Beyond simply having a child savings plan, it's a great idea to have a savings goal. Determining how much you want to save helps you create a savings budget. Use the NC 529 College Savings Calculator to estimate how much college may cost by the time your child reaches the age of attendance. From there, create savings benchmarks so you can figure out how much to set aside each year and keep track of your savings.
Teach Your Kids to Save
Having a savings account for your child sets them on the road to success. It helps them learn how to budget and plan. If there is something they want, no matter how big or small, they can get it — but they may have to work for it. A college education may be expensive, but it is achievable.
Show your kids the status of their NC 529 Account often. Explain how you are saving for their education and demonstrate how you incorporate their savings account in your budget. Not only will this be a valuable financial lesson, it will help them remain determined to continue their education.
Get started today and open an NC 529 Account!
Go Back to News