NC Offers College Options, Aid for All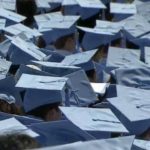 "With over 100 colleges and universities across the Tar Heel state, both recent high school grads and returning learners are sure to find a place to continue their education.
The University of North Carolina System comprises 16 universities, including UNC-CH, NC State, NC Central University, NC A&T, UNC-Wilmington, and Appalachian State. There are three dozen private colleges and universities to choose from, including Louisburg, William Peace, Duke, Davidson, Catawba, High Point, Shaw, and Wake Forest. And the 58 community college options assure that there is a campus within 30 miles of every citizen in North Carolina."
There are many post-graduation options for North Carolina students. Learn about these and more in the complete article on WRAL.
Go Back to News