FSEOG: Grant Qualification & How to Apply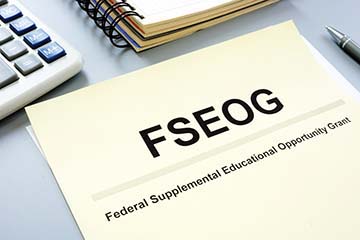 Financial aid is an important tool to help undergraduate students cover the cost of college. Financial aid comes in many forms, including grants, scholarships, student loans, and work-study programs. There's a lot of free money out there, and most students will qualify for some sort of financial aid when they complete the Free Application for Federal Student Aid (FAFSA).
Undergraduate students with exceptional financial needs may qualify for a Federal Supplemental Educational Opportunity Grant (FSEOG). Here's more about FSEOG awards, who qualifies, and how to apply.                          
What is the FSEOG Program?
The FSEOG program is a federal education funding program, however, the funds are distributed by the financial aid office at each participating school. Not all schools participate in the FSEOG program. However, about 4,000 schools across the country do take part in the program, so there's a pretty good chance the funds are available at your school.                                                    
Grants range from $100 to as much as $4,000 per year for undergraduate students with exceptional financial needs. Unlike student loans, this grant program is free money for college, so students will not have to repay the funds.
How Can Students Apply for the FSEOG Program?
Qualifying for the FSEOG program starts by first completing the FAFSA. The same data is used to calculate how much you're eligible to receive from the Federal Pell Grant your school's financial aid office to determine whether you're also eligible for an FSEOG award. So, undergraduate students can qualify for a Pell Grant and the FSEOG program.                                                      
Contact your school's financial aid office to find out how to qualify/apply for FSEOG right away because FSEOG funds do run out!             
Don't Delay!  FSEOG Funds Do Run Out!
It's very important to remember that each school only receives a certain amount of FSEOG funding from the federal government each year. The financial aid office at your school will determine how much each student will receive.                                                      
Make sure you don't miss out on the opportunity to receive free money for college. That means completing the FAFSA as soon as possible. The FAFSA opens each year on October 1. If you need help with the FAFSA, there are many free online resources with tips to avoid common FAFSA errors.  A financial aid officer will need your FAFSA information to determine your eligibility. 
How Will Students Receive Their FSEOG Money? 
If you qualify for an FSEOG award, your school will either pay you directly or credit the funds to your student account. Schools decide whether they want to pay out the money in one lump sum at the beginning of the year or separate the payments by semester, trimester, or quarter.
When Financial Aid Isn't Enough
In addition to financial aid from the FAFSA and the FSEOG, students should apply for as many scholarships as possible to obtain additional free money to pay for college. Every penny you can earn from a scholarship or save while working a part-time job during school will help you reach your education goals. 
If you need additional funds to pay for school, you'll likely want to consider a private or alternative student loan. The NC Student Assist and Parent Assist Loan programs are available to North Carolina families with students attending in-state or out-of-state eligible institutions. These loan programs are also available to out-of-state families with students attending an eligible North Carolina school.                                               
NC Assist has no fees and offers competitive fixed rates when compared to federal PLUS loans. NC Assist Loans from the College Foundation of North Carolina helps families bridge the financial gap to reach their college goals.                  
Go Back to News