Creating a High School Resume: The Definitive Guide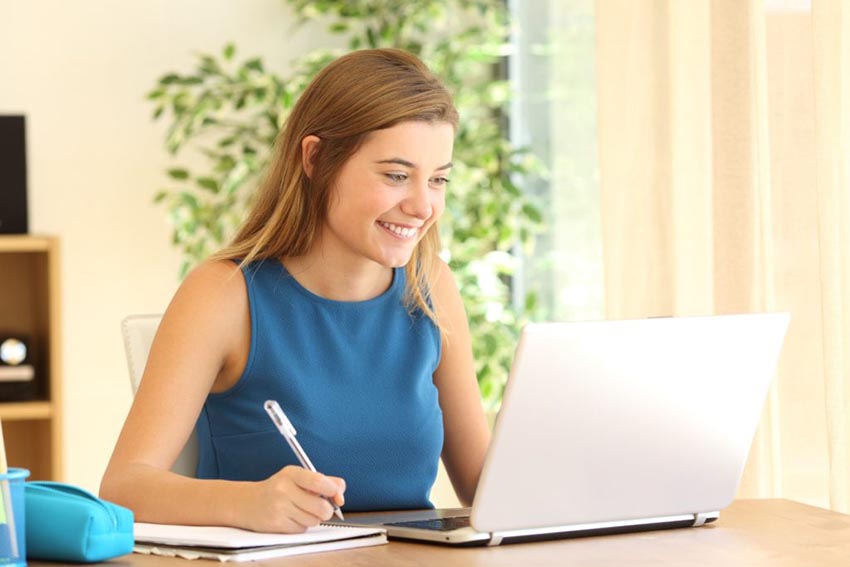 Students in high school may not be thinking about writing their first resume right now. It can seem like a very overwhelming task. But don't worry, you probably have more experience than you think, and this resume guide will help you craft a quality resume you'll be proud of.
Why Do You Need a Resume in High School?
More good news — your resume doesn't need to be more than one page long, and since it's all about you, it will be a breeze to write. First, let's talk about why you may need a resume in high school.
A resume is a quick way to introduce yourself to decision-makers who don't already know you. It gives them important information about your education, experience, and accomplishments and shows them why they should meet with you in person.
A high school student may need a resume to:
Apply for a job
Even though your first job may be working at a local fast-food restaurant on the weekends, a resume could make you stand out from other applicants as a responsible employee with a good work ethic.
Apply to some colleges
Most colleges do not accept resumes because most of the information has probably been covered on the application. However, some highly selective schools may request a resume along with your application or during an interview. Check with each school for their specific guidelines.
Apply for scholarships
Many scholarships will request that students also submit a resume that highlights their personal accomplishments and career goals that may be relevant to the specific scholarship.
Chances are you're now thinking a high school resume will come in very handy, and very soon! So, the next step is to think about what you want to include on your resume.
Let's Talk About You
Make an outline of any clubs, activities, sports, hobbies, jobs, or awards you've been a part of while in high school. Examples include:
Babysitting
Mowing lawns
Joining the cross-country team
Volunteering at a local animal shelter
Being elected president of the photography club
Receiving a science fair award
No job, activity, or accomplishment is too small for a high school resume. Your first job as a babysitter can show you're responsible and have a solid work ethic. Working on the school yearbook committee shows that you work well with a group, pay attention to detail, and are familiar with working under deadlines.
As you're making your list, include dates of participation and details about your responsibilities or accomplishments for them. Remember to save this list and keep adding to it every time you have a new experience.
Time to Write Your Resume
Now that you know the different types of resumes you may need, and you've collected all the information you want to include in yours, it's time to start writing. Remember that resumes for students should not be more than one page long.
Any longer than one page does not get you extra credit with the person reviewing your resume — it will likely get you points deducted for taking up too much of their time.
Template
First, you'll need a resume template. There are many free templates available online or through your Microsoft or Google accounts. Once you find a template that appeals to you, start by adding your name and contact information. Then begin transferring all the information you've gathered into each section to highlight your experience, education, honors, etc.
Using a template will also help you move sections around to customize your resume for different opportunities. For example, put the education section higher on your resume when applying for colleges. Or, move up the volunteering section, if it gives a scholarship committee a better idea of the things that interest you and how you give back to your community.
Objective
In one or two sentences, this section explains your career or academic goals and how your experience contributes to those goals.
Education
List the name and address of your school and the expected graduation date. If you have a high GPA or other academic honors, you can also list them here.
Experience
Include all relevant activities and jobs that demonstrate leadership, responsibility, and a strong work ethic that make you the perfect fit for the role. Briefly describe your responsibilities and add the dates of service.
For example:
Volunteer
Pets 'R Us / 2018-Present
Walked dogs after school and on weekends.
Assisted staff bathing and grooming pets.
Sports, Activities, Skills, Honors, etc.
Include any remaining information in order of importance.
Once you've written your resume, have a parent or teacher review it for grammar and spelling mistakes.
Resume Writing is a Lifelong Skill
Your resume is really never complete. Keep updating the information after each new accomplishment. It will also come in handy for completing college applications when you'll want to have all your high school activities, clubs, honors, and other experience at your fingertips. It's also a great tool to give a teacher or counselor when asking them to write a letter of recommendation for you.
A high school resume can also show you where you need to add experience. If you have several clubs or honors on your resume, but little leadership experience, that can push you to step out of your comfort zone and take on more responsibilities to round out your resume.
Your high school resume can continue to evolve once you're in college. You'll need a resume to apply for honors programs, academic organizations, summer internships, and more. Check out NCCareers.org for more resume advice. 
Go Back to News