CLEP Testing for College Credit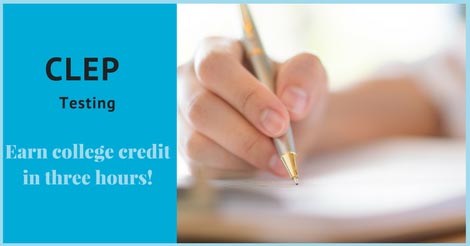 Picture this: It's your first day of college, and you're so excited to find your dorm room, meet your roommate and find out where your classes are. You're thrilled to be learning new things and marching on towards your degree. But you're especially excited that you got to save time and money by testing out of the courses you've already mastered. If you feel ready for the challenge of more advanced courses, before you've even set foot on your new campus, CLEP testing may be for you.  
CLEP Gets You Credit 
CLEP, which stands for the College-Level Examination Program, is a set of exams on varying subjects that allow you to test out of introductory college-level courses. Students who score well on the CLEP exams are awarded college credit, which is accepted at 2,900 colleges and universities. 
More about CLEP testing: 
There are currently 33 CLEP exams to choose from. Find all the CLEP exam subjects. 
While the CLEP results are accepted by 2,900 colleges and universities, each institution may differ on what CLEP credits they will accept. You can search for your school's policy. 
Students who earn college credit through CLEP testing won't have to take the corresponding college course or pay the cost of tuition, books, and other fees that the course might require.  
Why Earn Credit Through CLEP? 
With the cost of college growing ever more expensive, many students are looking for ways to reduce the amount of time, and therefore money, they need to spend in school earning their degree. Whether you're a non-traditional student interested in earning your degree as quickly as possible, or you're simply interested in taking as many higher-level classes as you can, there are many reasons to consider the CLEP exams: 
You will save money. It's simple: the more classes you exempt, the less you will have to pay for tuition, books, and other expenses. 
You will save time. Students who earn college credit through CLEP testing often graduate earlier than those who did not take any CLEP exams. 
You will be placed in courses appropriate for your knowledge level. By exempting the introductory-level college courses, you will be qualified to take more challenging, higher-level courses in that subject matter. 
You could perform better in school. Studies show that students who took the CLEP exams tend to perform better in subsequent courses and have higher GPAs than those who did not choose CLEP testing. 
If you think CLEP testing might be right for you, register here or learn more.
Go Back to News