Can college savings in the NC 529 Plan be used at any school?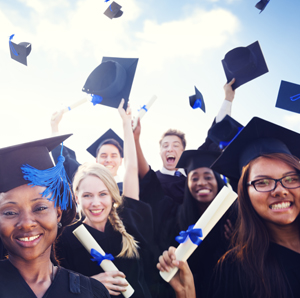 Have an NC 529 Plan for a soon-to-be high school graduate? This is an exciting—and busy!—time for your family. Now is the time to be sure the money you've saved can be used for your grad's college education. Don't stress, we're here to help! You can use the savings in your NC 529 Plan at any eligible institution of higher education in the U.S. and even some foreign countries. But what exactly is an eligible institution? Keep reading to learn where you can use your NC 529 Plan savings!
What institutions qualify as an eligible institution?
An institution is eligible if:
1. It is eligible to participate in the financial aid programs of the U.S. Department of Education; and
2. If it provides programs of study for which it awards:
An associate's degree;
A bachelor's degree;
A graduate level or professional degree; or
Another post-secondary credential.
If you're thinking, "but that sounds like all colleges," that's about right! Your NC 529 college savings can be used at most higher education institutions in the U.S and even some abroad! Check with your school of interest's program administrator if you are uncertain about that school's eligibility.
Where You Can Use Your NC 529 Plan Savings:
Two-year or four-year public (state or community) and private colleges and universities
Certain vocational, proprietary, and foreign institutions
Colleges and universities considered eligible institutions will have a federal school code. Check here to see if the schools you're considering have one: https://fafsa.ed.gov/spa/fsc/#/SEARCH?locale=en_US
Go Back to News