Tools for Counselors & College Access Professionals
North Carolina offers two tools to help you in guiding students to complete their FAFSA: the FAFSA Tracker and Finish the FAFSA.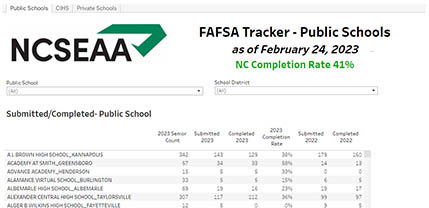 FAFSA Tracker
This tool is available to anyone interested in FAFSA completion progress at the school and district level. No log-in required. FAFSA completion data is updated weekly.
Finish The FAFSA
This tool is for education professionals such as school counselors who work directly with high school seniors on FAFSA completion. Access is restricted but the information is updated daily. Learn how you may gain access to Finish the FAFSA below.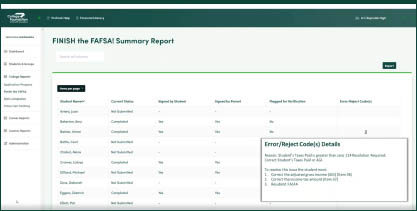 Finish the FAFSA Qualifications:
You must be a school counselor or college access professional that works directly with high school seniors on completing their FAFSA
The school you work with must be a public or charter high school (access is not currently available for private schools)
Your school or organization must have a signed data sharing agreement in place with NCSEAA/CFI. If you do not currently have an agreement in place but would like to explore one, please email outreach@NCSEAA.edu.
If you feel that you meet these qualifications, then follow the steps below to gain access to Finish the FAFSA.
Step 1 - CFNC Account
Ensure that you have a CFNC.org account tied to your official school/organization email address. You can either create a new CFNC.org account or edit your email in an existing account. Yahoo, Gmail, or similar email addresses are not permitted. Click LOG IN to get started.
Create/Update Your CFNC Account
Step 2 - ProTools Access
Once your CFNC.org account is created/edited to have your official email address, use the request form for the addition of ProTools permissions to your account. Please allow 2 weeks for our team to confirm your school/organization affiliation and process.


Request CFNC ProTools Access
Step 3 - Finish the FAFSA Access
Once you have access to ProTools, you will need to submit the Finish the FAFSA request form. The NC State Education Assistance Authority (NCSEAA) is responsible for FAFSA data and for managing access to the Finish the FAFSA report.
Request Finish the FAFSA Access