February 02, 2023 - February 23, 2023
Financial Aid February
As part of Financial Aid Awareness month, NCSEAA and CFNC are pleased to bring you the How to Pay for College webinar series. We will cover all the important topics you need to know to pay for college.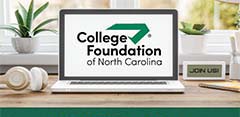 February 22, 2023
Third Annual North Carolina HBCU Showcase
Ever wonder about our Historically Black Colleges and Universities (HBCUs) in North Carolina? Did you know that we have the oldest HBCU in the South and the largest HBCU in the country? Are you still looking at colleges to attend next fall or in the future?
February 27, 2023
8th Grade Kickoff to College
You don't have to wait until your scholar gets to high school to learn about career and college readiness.  Now is the perfect time to find out what you can do to be prepared for what is next.