Virtual College Planning: 4 Steps for Success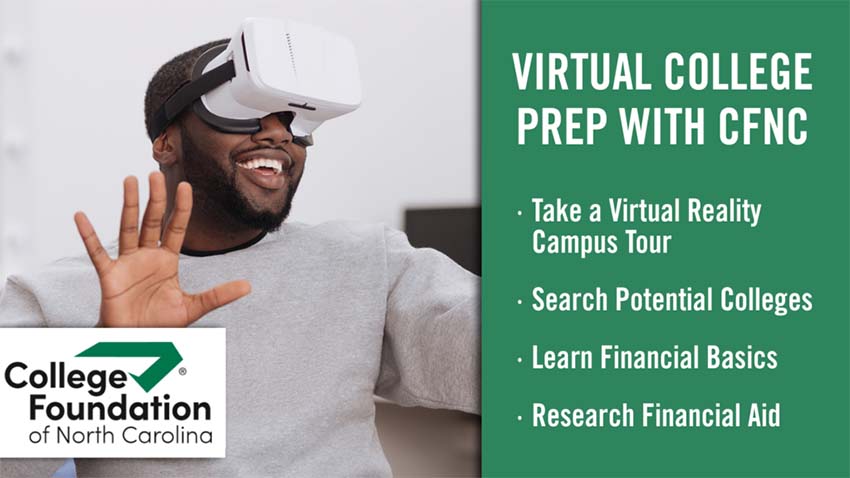 We're all doing our part to stop the spread of the coronavirus. Your parents may be working remotely, and you have been e-learning at the kitchen table. It's the new normal. Like most high school students, you're used to staying busy with classes, homework, sports, clubs, friends, and a part-time job. Now you're at home, learning in a whole new way. 
Experts believe varying levels of social distance guidelines will be needed for the foreseeable future and possibly longer. This could be a good opportunity for you to start planning for college. Where do you want to go to school? What do you want to study? What kinds of careers appeal to you? Here are four things you can do between binge-watching your favorite shows to prepare for college, online. 
Take a Virtual Reality Campus Tour
Just because you can't leave the house and physically go to a college campus, doesn't mean you can't experience campus life. The University of North Carolina System has created 360-degree tours of all 16 public universities as well as many community colleges. Videos are available online or through the GEAR UP VR app. The app is free, and you can download it from the iTunes or Google Play stores. 
Would you like to experience Appalachian State University in the Blue Ridge Mountains, UNC Wilmington's coastal campus, or any school in between? This is a unique way to experience a campus visit and get a better feel for which schools may be right for you. 
Search Potential Colleges
College Foundation of North Carolina (CFNC) is a step-by-step guide to help you research colleges, majors, careers, and more. When you create an account at CFNC.org, you can learn about yourself and how your interests and skills may translate to a career. Explore majors from agriculture to arts to hospitality and tourism. 
Build a list of colleges that appeal to you and save them in your CFNC account. This can help you compare tuition costs, admission requirements, location, and more. Add or remove schools as you decide where you want to apply. And when the time comes to start filling out applications, you can also complete those forms through your CFNC account. 
Learn Financial Basics
Just because you're not earning a lot of money right now doesn't mean you can't learn about money management. The Financial Basics online course teaches practical money handling skills, including setting up a monthly budget, how credit works, and how borrowing works to pay for college. 
The goal is to help you make smart financial decisions you can use now and in the future. The course is free. And once you successfully complete the requirements, you can enter for a chance to win a $500 scholarship. 
Research Financial Aid
Whether you are headed to a four-year or two-year college, be sure to complete the Free Application for Federal Student Aid (FAFSA). Every student should complete the FAFSA each year they plan to be in school. The FAFSA helps to determine your eligibility for federal student loans, grants, scholarships, and work-study. This is an important step in the financial aid process. 
Don't forget to apply for other private grants and scholarships. Don't know where to start? Check out CFNC's webinar "How To Find Scholarships," as well as the online search tool for North Carolina scholarships. 
CFNC understands this can be a stressful time for you and your family. While you can't control when things get back to normal, you can control what you do with extra time on your hands. Take advantage of the free online tools to keep you on track to fulfill your college dreams.
Go Back to News