In the News: NC 529 Celebrates N.C. Twosday Baby with $2,529 for Education!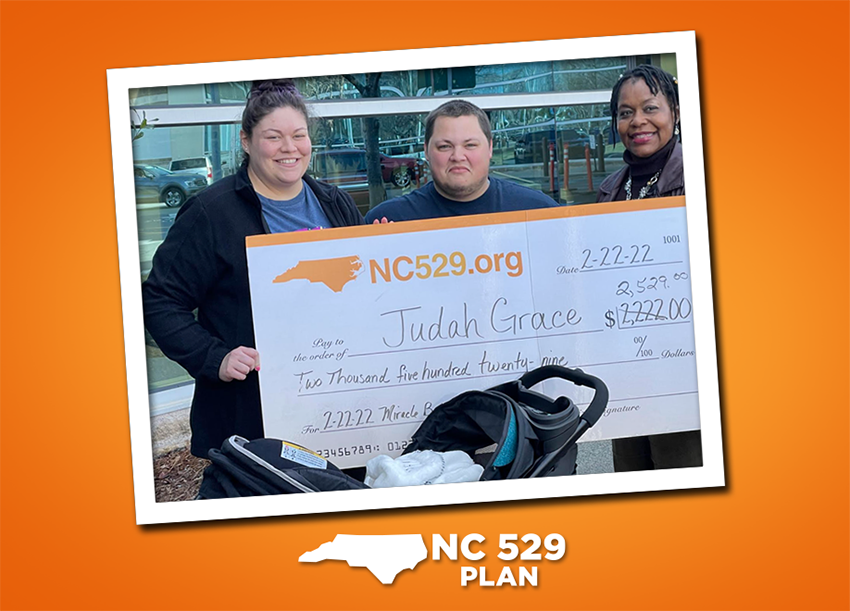 Judah Grace Spears was only a few days old when she received a gift she will never forget. On Tuesday, February 22, 2022, at exactly 2:22 a.m., in delivery Room 2 — parents Aberli and Hank Spear welcomed a baby girl into this world at Alamance Medical Regional Center in Burlington, North Carolina.
In recognition of "Twosday" – and the birth of baby Judah — the NC 529 Plan delivered a check for $2,529 to be invested in an NC 529 Account. Initially, the contribution was for $2,222 to celebrate the day of Judah's birth, but NC 529 bumped up the amount to $2,529 because it's a 529 plan used for education savings.
"We are just excited about the fact that we can help jumpstart her education by giving them a little money," said NC 529 Regional Representative Sarita Broadway. "Whenever I can participate and be a part of giving, it just makes me boil over with joy."
"I'm flabbergasted," said mother Aberli Spear. "It makes me want to cry. She's a big blessing."
Saving for Education is Simple with NC 529
The NC 529 Plan is a tax-advantaged education account that you can put towards your child's future K–12 and college education. You can open an account and start saving with as little as a $25 contribution. A donation to your child's NC 529 account is a GREAT gift for friends, family, and others to contribute. Every dollar helps.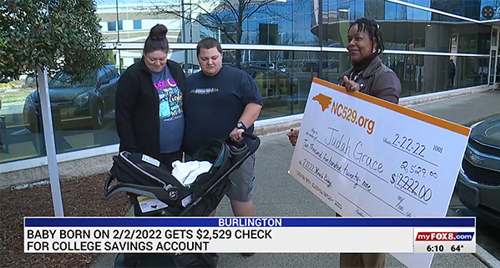 In the News: Baby Judah Featured on WGHP FOX 8 in Greensboro!
You can use your NC 529 funds to cover a variety of education-related expenses. That includes tuition, books, and room and board. To see what other expenses are covered, click here.
To watch the full story from WGHP, click here.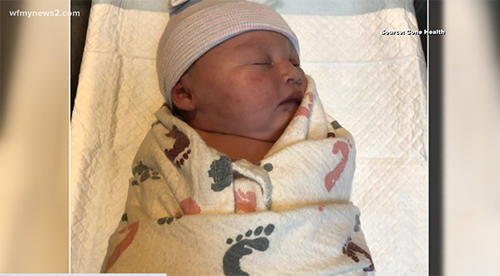 In the News: Baby Judah Receives $2,529 Check to go Towards College Savings (via WFMY News 2)
The College Savings Calculator is a great tool to estimate just how much you may need to pay for college when it's time to pay the bill. You can determine costs by searching multiple schools — even calculate between public and private universities.
To view more from this story from WFMY, click here.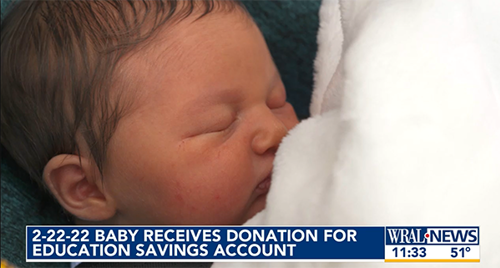 In the News: Miracle Baby Receive Donation for Education Savings Account (via WRAL)
A contribution to an NC 529 account is a great gift for any time of the year. A small donation can be a gift for a baby shower, birthday, graduation, or other seasonal events. To learn more about contributing to an NC 529 Account as a gift, click here.
To see the full clip from WRAL, click here.

In the News: Special 'Twosday' Baby Receives Ultimate Gift (Yahoo)
With an NC 529 plan, you have a variety of investment options and a wide range of categories to choose from. You can pick multiple options to fit your aggressive or more conservative investment style. Learn more about our program highlights, click here.
To view this story on Yahoo, click here: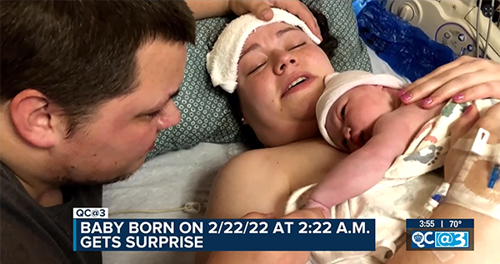 Baby Born on 2/2/22 Receives Surprise Gift (via WBTV)
Opening an NC 529 account is very easy! There are only four pieces of information needed to sign up — the participant, the beneficiary, the financial information, and program description. It takes just a few minutes to open an account and start saving today.
To view this story on WBTV, click here.
NC 529 is part of the College Foundation of North Carolina (CFNC) family which helps North Carolina families plan, apply, pay, and save for college.
Go Back to News